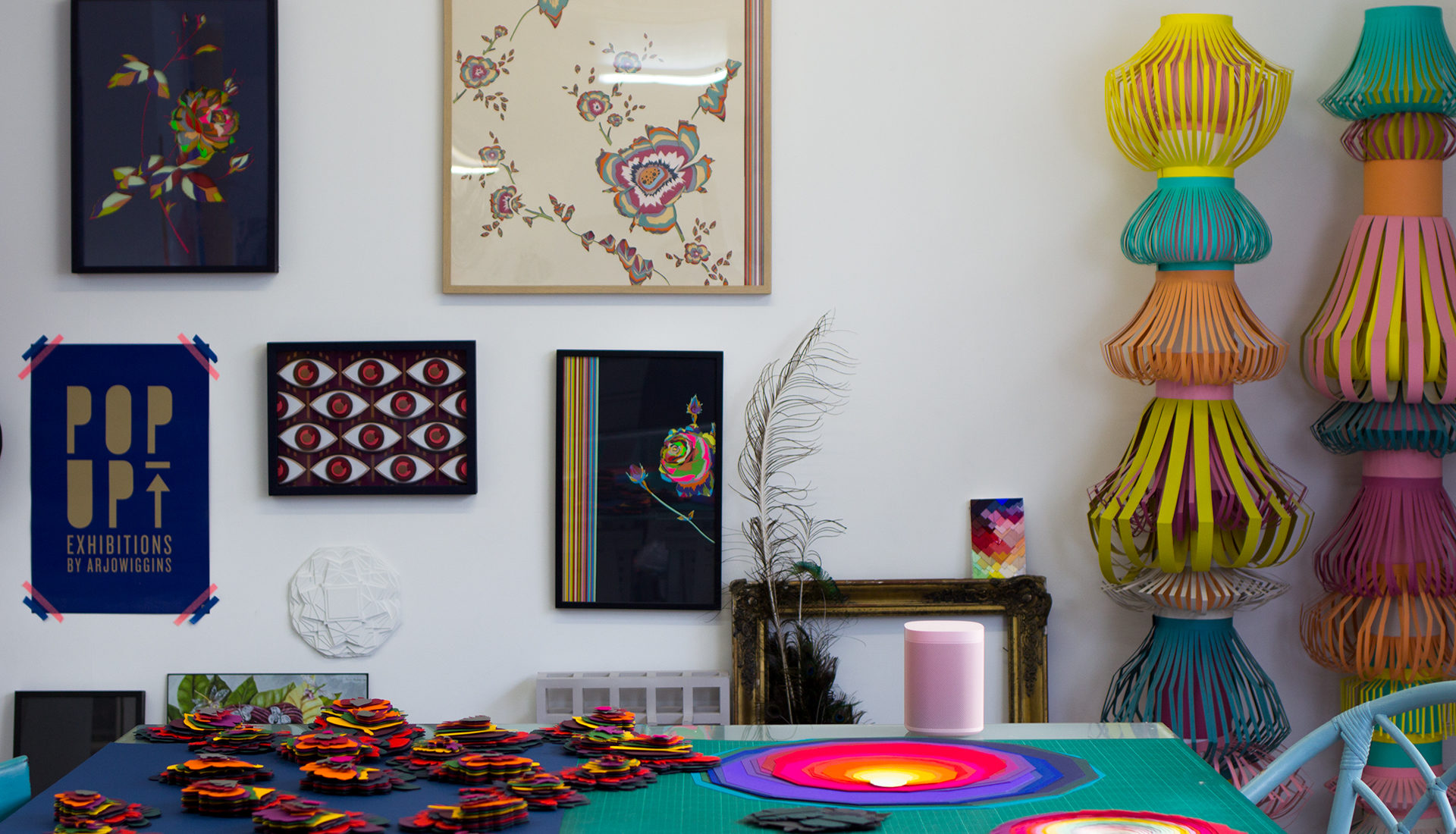 Born in 1985, Maud Vantours is a Parisian designer and artist.
After studying fabric design and material research, Maud founded her own design studio.
Her work explores colour, graphic design and material. Paper is at the heart of many of her original creations. She folds it, perforates it, piles it up and superimposes its layers to create 3D universes. Poetry surrounds her original compositions and sculptures.
Now, she also explores new ways to express herself, using materials such as plexiglas, metal or wood. This means she can apply their techniques and skills to projects at any scale.
Her works are recognised by high brands and exhibited in galleries in France and abroad.
///
Designer et plasticienne née en 1985, Maud Vantours vit et travaille à Paris.
Après un cursus artistique spécialisé dans le design textile et la recherche de matériaux à l'ESAA Duperré, Maud développe son propre studio de création.
La couleur, le graphisme et la matière occupent une place prépondérante dans leur travail. Ils aiment partir d'un motif ou d'une forme épurée, qu'ils décomposent et développent en volume afin d'en exprimer toutes les facettes. Une poésie se dégage de leurs sculptures et de leurs créations originales qui se déploient tels des paysages oniriques, multicolores comme monochromes.
Le papier est au cœur d'une grande part de leurs créations. Celui-ci est plié, l'ajouré, l'accumulé, superposé couche après couche afin de créer des univers et des formes inspirées tout en volume. Sculptée par leurs soins, cette matière se transforme en objet précieux. Plexiglas, métal, bois… et tout nouveau matériau, leur permettent d'explorer de nouveaux champs d'expression et d'expérimenter leurs techniques et savoir-faire sur des échelles variant du plus petit objet aux plus grands décors.
Offrant un espace d'expression salué par les plus grandes marques, les créations du studio sont aussi exposées en France et à l'étranger, en galerie comme lors des grands salons professionnels internationaux.
Adidas / Adopte un Mec / Agatha Ruiz de la Prada / Allure Magazine / AMVBBDO / Anthologie Quartett / Arjowiggins / Atomic Soda / Atelier Cologne / Baume & Mercier / Beaucoup Music / Bombay Sapphire / Bulgari / Cartier / Carita / Chanel / Chaumet / Christian Louboutin / Cité de l'Architecture / Cité des sciences / Clarins / Compagnon du devoir / Descamps / Dior / Diptyque / E47 Agency / Elle / Formica / French Magazine / Fubiz Studio / GAP / Giorgio Armani / GQ / Goutal Paris / Groupe Marie Claire / Guerlain / Guzzini / Helena Rubinstein / Hotel Intercontinental / Intérieur & Dépendances / Issey Miyake / Jeager LeCoultre / Kenzo / La Parqueterie Nouvelle / Lancôme / Le Pot Commun / Louis Vuitton / Louis XIII /  L'Officiel Italie / L'Oréal Paris / LVMH / Mille Forme / Moët Hennessy / MUES Design / Nature & Découvertes / OOB Magazine / Optelma / Paulette Magazine / Parcours Saint-Germain / Piaget / Philharmonie de Paris / Playtime / PO Groupe / PRODmachine / Publicis / Rad / Roger & Gallet / SKP Magazine / Sonos / Tag Heuer / Tarkett / Texdecor / Viktor & Rolf / Visual Design Management / Voskel / Saint Laurent / …