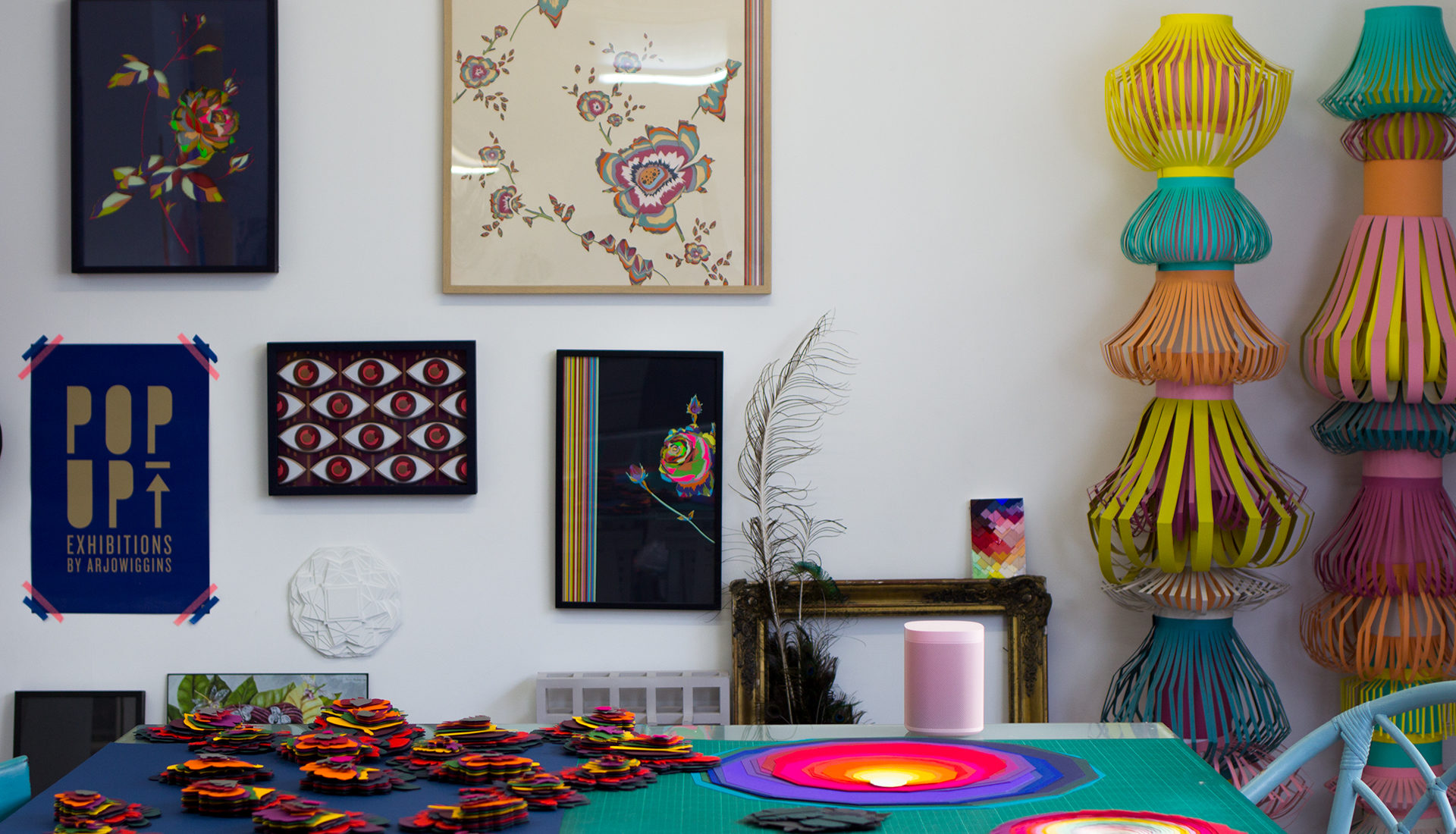 Maud Vantours, was born in 1985 in France. Designer and plastic artist, she lives and works in Paris. It is after having followed an artistic course specialized in textile design and materials research at ESAA Duperré that Maud launched his own freelance activity.
Colour, graphics and material have a prominent place in her work. Maud likes to start with a simple 2D pattern, which she breaks down in order to develop it into volume and express all its facets. A poetry emerges from his sculptures and research that creates original graphics such as dreamlike multicolored landscapes.
Over time, paper has become her favourite material. She folds it, opens it, accumulates it, superimposes it layer after layer in order to create inspired patterns all in volume. The paper material, sculpted by Maud, is transformed into a precious object. Maud Vantours' work, which oscillates between art and design, appeals to the major luxury brands with which she collaborates, but also to supermarket brands.
Her work is exhibited in France and abroad, in galleries and at international trade fairs.
//
Maud Vantours, Designer et Plasticienne, vit et travaille à Paris.­ C'est après avoir suivi un cursus artistique spécialisé dans le design textile et la recherche de matériaux à l'ESAA Duperré que Maud lance sa propre activité en free lance.
La couleur, le graphisme et la matière ont une place prépondérante dans son travail. Maud aime partir d'un simple motif en 2D, qu'elle décompose afin de le développer en volume et d'exprimer toutes ses facettes. Une poésie se dégage de ses sculptures et recherches pour  créer des graphismes originaux tels des paysages multicolores oniriques.
Le papier est devenu au fil du temps sa matière fétiche. Elle le plie, l'ajoure, l'accumule, le superpose couche après couche afin de créer des motifs inspirés tout en volume. La matière papier, sculptée par Maud se transforme en objet précieux. Le travail de Maud Vantours oscillant entre art et design séduit  de nombreuses et prestigieuses enseignes avec qui elle collabore.
Ses travaux sont régulièrement exposés en France et à l'étranger.
Adidas / Adopte un mec / Agatha Ruiz de la Prada / AMV BBDO / Goutal / Anthologie Quartett / Arjowiggins / ArtStar / Atomic Soda / Baume & Mercier / Beaucoup Music / Bombay Sapphire / Bulgari / Cartier / Chanel / Chaumet / Christian Louboutin / Cité de l'Architecture / Cité des Sciences / Clarins / Compagnons du devoir / Descamps / Dior / Diptyque / e47 Agency / Formica / French Magazine / Fubiz Studio / GAP / Giorgio Armani / GQ / Groupe Marie Claire / Guerlain / Guzzini / Helena Rubinstein / Hotel Intercontinental / Intérieur & Dépendances / Issey Miyake / Jeager LeCoultre / Kenzo / La Parqueterie Nouvelle / Lancôme /  Le Pot Commun / Louis Vuitton / L'Officiel Italie / L'Oréal Paris / Moët Hennessy / MUES design / Nature & Découvertes / OOB Magazine / Optelma / Paulette Magazine / Parcours Saint-Germain / Piaget / Playtime – Picaflor / PO Groupe / PRODmachine / Publicis / Rad / Roger & Gallet / SKP Magazine / Tag Heuer / Tarkett / Texdecor / Viktor & Rolf / Visual Design Management / Voskel / Yves Saint Laurent
Ce message d'erreur n'est visible que pour les administrateurs de WordPress